At Chardon Dental Arts, we offer a range of services designed to fit your unique smile goals. Our skilled and supportive team is here to make your smile healthier and even more beautiful!
We're proud to offer the very best cosmetic dentistry services near Chardon, OH because Dr. Gray develops individualized treatment plans. Yours will be designed to take into account your lifestyle, aesthetic goals, health history, and budget.
We offer the following cosmetic treatments at our Chardon dental office: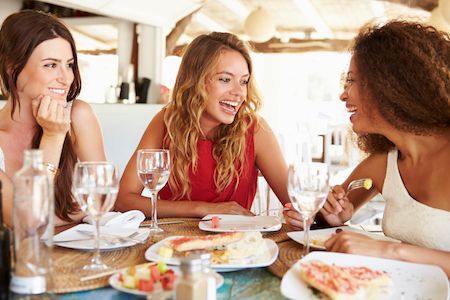 Smile Makeovers
Are you ready for a one-of-a-kind transformation? If so, a smile makeover may be for you!
Smile makeovers combine two or more cosmetic treatments and are designed to provide a range of incredible results, including younger-looking and more balanced facial features. Choose from the following:
Philip Zoom! Teeth Whitening
Porcelain Dental Veneers
Dental Bonding
Invisalign® Clear Braces
Dental Implants
Dental Crowns
Schedule a smile makeover consultation to learn more about how to customize your plan and receive the smile you desire.
Porcelain Veneers
Do you suffer from discolored, cracked, or gap-filled teeth? Porcelain dental veneers can address each of those problems - in as little as 2 appointments! Dental veneers are ultra-thin porcelain shells that are cemented to your front-facing teeth. Each veneer is custom-crafted and custom-shaded to fit the rest of the smile perfectly. With proper care, yours could last decades!
If you have the following esthetic concerns, dental veneers could correct your smile:
Cracked or broken teeth
Stained, discolored, or yellow teeth
Crooked teeth
Gaps between teeth
Dental Implants
No one should suffer from the discomfort and embarrassment of tooth loss. That's why Dr. Gray specializes in permanent tooth restoration using dental implants!
Dental implants offer long-lasting and natural-looking results by using titanium posts implanted into the jawbone where luminous crowns can then be attached. With a secure fit, dental implants do not require any special adhesives and there are no restrictions on what foods patients can or cannot eat. These restorations also promote growth in the jaw bone and generally serve as a healthier alternative to dentures or bridges.
Chardon Dental Arts offers the following dental implant systems:
Single Dental Implants
All-on-4® Dental Implants
Hybrid Dental Implants
Hybridge Dental Implants
Implant-Retained Dentures
Before and After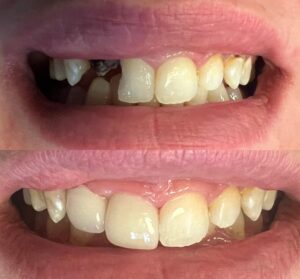 Philips Zoom! Teeth Whitening
If you are a smoker, coffee and tea drinker, or if you take certain medications, chances are your teeth have lost their brightness and luster. Luckily, you can get yours back in as little as an hour's time with Philips Zoom! teeth whitening.
This system delivers rapid, safe, effective results! For your convenience, Philips Zoom! is offered both as an in-office (60-minute painless treatment) or take-home kit!
Invisalign Clear Teeth Aligners
Say goodbye to your crooked teeth with Invisalign! This world-renowned system consists of a series of crystal-clear teeth aligners designed to gradually shift your teeth into a more proper position. They are removable, clear, and nearly invisible. Unlike metal braces, the plastic trays are completely removable which means you'll be able to enjoy all the foods you love and keep up with your current oral care routine.
Questions About Our Top Cosmetic Dentistry Services in Chardon, OH
Ready to reveal your best, brightest smile? Call Chardon Dental Arts today to schedule your cosmetic dentistry consultation!