Dr. Adam Gray and his skilled team keep quality prevention at the forefront of their practice.
While Chardon Dental Arts provides a range of cosmetic and restorative dental services, we first focus on keeping your smile healthy between appointments, with top-quality preventive care and dental cleanings. Our quality comes from a dedication to serving all ages with our digital scanners, cavity detection and customized care.
We offer the following preventive care services at our Chardon, OH dental office:
Professional Teeth Cleanings (Prophylaxis)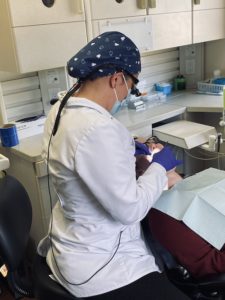 Dr. Gray is dedicated to helping every patient to stay healthy between regular appointments. He recommends all that patients receive dental cleanings at least twice a year to prevent any oral conditions and diseases from arising. Depending on the current state of your oral health, he may recommend more frequent, targeted cleanings.
In every dental exam and cleaning, our skilled team uses top dental tools and technology to give you comfortable, personalized care. We'll make the most of your time in the dentist's chair with efficient cleanings tailored to your needs. After your cleaning, our team will polish the teeth, removing unwanted stains and discoloration, and may recommend an additional mineral treatment for further strengthening of the teeth.
Nightguards For TMJ Pain
Grinding your teeth while you sleep can lead to more uncomfortable symptoms like headaches, TMJ, and uneven wearing of the teeth. If you regularly grind your teeth (bruxism), Chardon Dental Arts is prepared to protect your teeth with custom-made night guards! Dr. Gray will work with you to create custom orthotics that can protect against headaches while preserving your functional bite and your healthy, even smile.
Desensitizing Treatments For Sensitive Teeth
Are your teeth sensitive to changing temperatures? If your tooth sensitivity to hot and cold keeps you from enjoying the foods you love, our friendly team is here with a treatment solution! First, we'll check to ensure the sensitivity doesn't have a more serious cause. Then, Dr. Gray will provide you with a special paste that keeps sensitivity at bay for months, while providing education to help you continue prevention, even between your regular appointments.
Top Preventive Care & Dental Cleanings In Chardon, OH
Chardon Dental Arts will keep the whole family smiling for life! Our dental exams and cleanings are designed for complete oral health at all ages.
Call us today to schedule your dental cleaning or preventive care appointment.