At Chardon Dental Arts, Dr. Adam Gray is proud to offer straighter smiles with Invisalign® clear braces! This trusted system has been used worldwide for decades to provide effective treatment designed to fit seamlessly into your lifestyle.
During the consultation phase, Dr. Gray uses a top-quality digital scanner to create your 3D model with ease — you won't need to worry about the traditional, more invasive method of impressions that use sticky, putty-like materials. Your treatment plan and new smile design will be based on our best, most non-invasive digital technology.
If you or your family member is ready for a straighter smile, visit Chardon Dental Arts for the top Invisalign services near Chardon, OH and beyond. With Dr. Gray, you'll receive the most careful, minimally invasive treatment available, at an affordable cost for the whole family.
What Are Invisalign Clear Aligners & How Do They Work?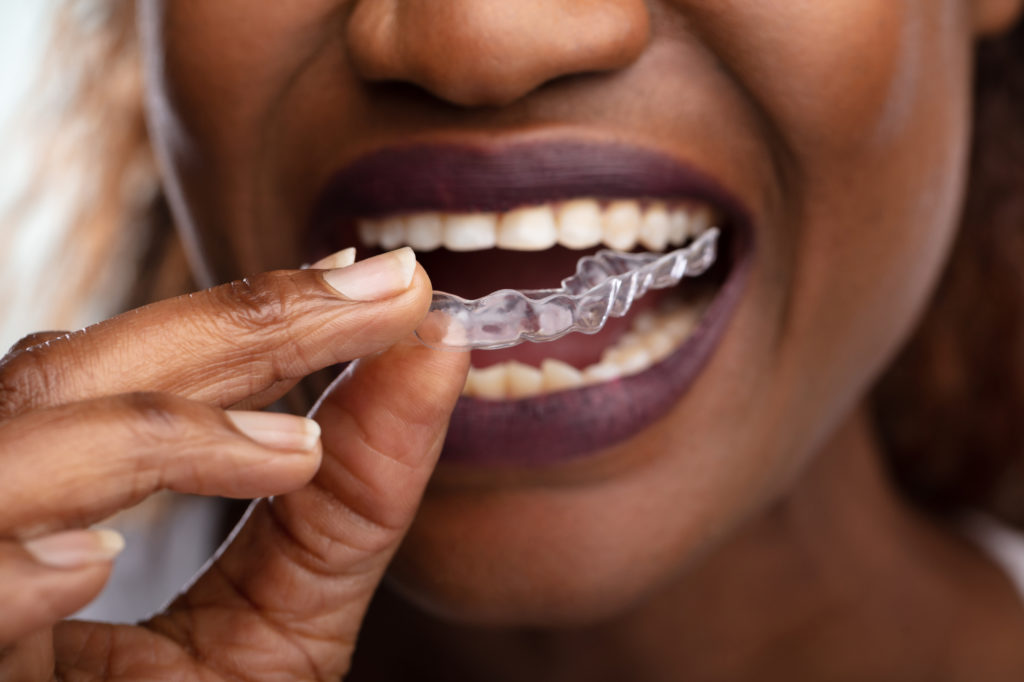 Invisalign is a trusted orthodontic system that gradually straightens the teeth with a series of custom, invisible teeth aligners. Invisalign clear aligners fit comfortably and are designed to wear day and night — but their removability allows every patient to maintain easy mealtimes and a flexible schedule!
Dr. Gray will take a digital scan of your mouth to make multiple sets of clear braces especially designed for you! You'll swap pairs every two weeks, allowing the teeth to move gradually and precisely throughout the length of your treatment. Each pair of clear aligners is specially customized to move your teeth into a straighter, more aligned position as your treatment progresses. Unless instructed otherwise, you will return to our local Chardon, OH dental office throughout your treatment, allowing our Invisalign dentist to track your progress and make any adjustments needed.
Wondering if Invisalign clear braces are right for you? If you suffer from the following orthodontic conditions, Invisalign clear braces could be the solution for you!
Crooked Teeth
Overbites
Underbites
Crossbites
Gaps Between Teeth
Open Bites
Crowded Teeth
Misshapen Teeth
...and more!
Your Consultation With Our Invisalign Dentist
Although most patients with mild-to-moderate misalignment are candidates for treatment with Invisalign, we'll take every measure to ensure clear braces are the best choice for you!
During your initial consultation, Dr. Gray will first use digital x-rays to carefully examine your teeth and jaw. Using the latest in dental technology, he'll rule out any orthodontic conditions that could indicate a need for traditional braces. If Invisalign is right for you, Dr. Gray to take digital impressions of your teeth to develop a plan for your optimal smile outcome.
How Much Does Invisalign Cost?
The out-of-pocket cost for your Invisalign treatment can vary, depending on your goals and needs. Your total cost will depend on the following criteria:
The specific terms of your dental insurance coverage
The length of your Invisalign treatment
If preliminary procedures or treatments must be completed before you begin your Invisalign treatment
We never want your total Invisalign cost to keep you from the smile of your dreams! To make it easy and affordable, Chardon Dental Arts accepts a wide range of dental insurance plans.
We're also proud to accept no-interest and low-interest monthly payment plans through CareCredit,® that can be used alone or in conjunction with your insurance. Uninsured? Take advantage of our in-house dental discount plan!
Have questions about your Invisalign treatment costs? Our staff is happy to assist you!
Schedule Your Invisalign Clear Braces Consultation
Clear braces are top solution or a straighter smile — no metal required! Give Chardon Dental Arts a call today, to learn more and schedule your consultation with our Invisalign dentist.